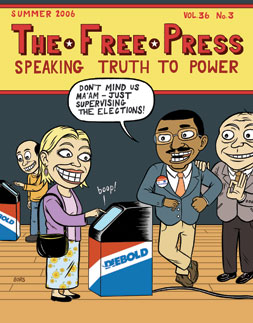 Did you know there was a "curse" once uttered which went, "May you live in interesting times".
Well Last week I heard a story that (I tried to find the original, but couldn't- is that a conspiracy?;)
there were troubles with the paper trails coming out of voting machines in Ohio.
Well here's my lates. First, a
site that is decidely against electronic voting
, and is a resource for us ALL http://blackboxvoting.org.
Next a site that is a "teeny" bit on the left side, run by an activist, who is also running as the
GREEN PARTY
candidate for Governor in Ohio...(
Home page here
) Such interesting past columns, as "
Did the NSA help BUSH steal the election?
"
Look at this
video
At any rate, I had a recent submission from a family "friend", that again made me sick
HERE.